Price is a Gen Inc researcher that was stationed onboard the Pyron submersible facility in Antarctica.
History
Price was found by Blake in a small room inside the Pyron submersible facility, where he yelled that some of his men were still trapped inside the testing chambers. He helped Blake and Faraday escape, and disappeared afterwards. His fate is unknown, but he most likely captured by Whitley or killed offscreen.
Gallery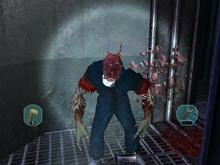 Trivia
Price can become infected and burst out if attacked too much by The Thing.
Community content is available under
CC-BY-SA
unless otherwise noted.